FGC began tracking this record back in March 2011, (9 years ago?!? we can't believe it either!), making it by far the most time we have ever spent on any single project.  To be fair, we certainly have not spent every waking moment of the last 9 years working on the album. In fact, we've been quite productive otherwise – in addition to keeping up our touring schedule, collectively, the FGC family has:
welcomed a new band member (what up, Sweet Pete), who contributed magnificently to the record;
celebrated two weddings and an engagement;
became a homeowner; 
welcomed three children into our lives;
earned several advanced degrees;
started work on a sixth record;
and adopted Bootsy, likely the sweetest dog of all time.
So we've had our hands full outside the recording studio the last nine years, but the record that would become Through with Tomorrow has been a backdrop to it all. Everything we've done outside the studio has informed our work inside the studio and vice versa.
Engaging creatively with ourselves from as many as seven or eight years ago – not as part of some archival retrospective, but in the context of an active, living project that just happened to have a very long lifespan – was extremely gratifying for us.  None of us would have guessed back in March 2011 that it would be nine years before we would complete our work on the record, but, to our March 2020 selves, it was worth every minute it took to get here. We are extremely proud to have arrived at this place, and we are delighted with how Through with Tomorrow turned out.  We hope you like it too.
-FGC
Video recap of initial tracking sessions:
Special guests on the record: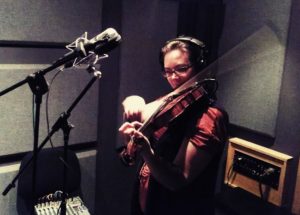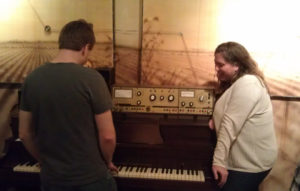 Track listing:

1. Trying to Live Up
2. Hold Fast to the Line
3. Time to Tell Me
4. She Might Get Warm
5. Through with Tomorrow
6. The Blind Climb
7. One Eye Dreaming
8. West Egg Party
9. Guns of Ticonderoga
10. The All the Everything  
About the cover: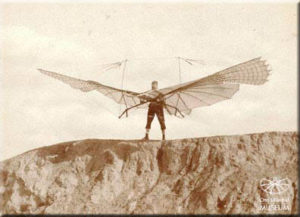 Hopefully you noticed the man adorning a ridiculous contraption emblazoned across the cover of Through with Tomorrow. This fellow is Otto Lilienthal, widely considered humankind's first successful aviator. Otto was an engineer by trade, but had been fascinated with birds since he was a child and always dreamed of manned flight. During the end of the 19th century, Otto spent his days successfully patenting various boilers, steam engines and mining machines, yet his heart resided elsewhere. It is this dwelling, of grandiose curiosity that occurs in the hearts of passionate men and women, in which Through with Tomorrow humbly intends to explore.

This photo of Otto depicts a moment, a juxtaposition, between mundaneness on Earth and the limitlessness of our dreams while aloft. Otto's vault into the abyss is inevitable, and he is fearless throughout. Not because there is nothing to fear but because he is doing what he must. Catapulting himself into truth.

Otto's life is an homage to each one of our individual pursuits of greatness, no matter how large or small. His pluck teaches us to be defiant. To do away with the ordinary. And to stop giving a damn about prosaic preoccupations. He teaches us to live in the now and be Through with Tomorrow.

As a lovely side note, it was a common love of music that brought Otto and his wife, Agnes Fischer, together. She was trained in piano while Lilienthal played the French horn. Both were excellent singers and together they enjoyed making music with their family.

Here is a link to the Otto Lilienthal Museum (also the folks who generously donated his image for the album cover).